TLP is an advanced power management tool for optimizing battery life on laptops running Linux. Its default configuration is usually enough to to see an improvement in battery life, however, TLP offers a wide range of configuration options which can be changed by editing its configuration file. MX ships with version 1.1 currently.
We also have a GUI for configuring it in the test repos called
tlpui
.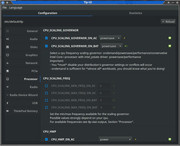 We now have the latest tlp 1.2.2 in the test repo, as well as a newer git pull of tlpui there that is compatible with 1.2.2's new settings.
Please let us know how they install and perform if you give them a try. You may need to reboot before any changes take hold, though. Changes from the 1.1 release:
+++ 1.2.2 --- 04.05.2019 +++

* Bugfixes
Battery Features, tlp-stat -b:
- Show data for batteries named other than BAT0/BAT1 (non-ThinkPads)
- Issue #395: ThinkPad X1C6 discharge malfunction
- Separate checks for charge thresholds and recalibration
- Intelligible recommendation for tp-smapi on ThinkPad X220/T420 et al.
- Explain "Battery Features: Charge Thresholds and Recalibrate"
Disks:
- Fix type determination
Operation Mode AC/BAT:
- MacBookPro 5.3: workaround for false AC offline status
Processor, tlp-stat -p:
- Fix read of /sys/devices/system/cpu/cpufreq/boost
- x86_energy_perf_policy: detect unsupported CPUs in newer versions
Radio Devices:
- Issue #404: make RESTORE_DEVICE_STATE_ON_STARTUP=1 persistent again

+++ 1.2.1 --- 18.03.2019 +++

* Bugfix
- Issue #391: unknown command "chargeonce"

+++ 1.2 --- 11.03.2019 +++

* Features
Disks:
- Support for NVMe devices
- Support for removable drives e.g. USB / IEE1394 devices
- Improve support for multi queue I/O schedulers (blk-mq)
General:
- tlp bat/ac: keep manual power settings until tlp start (Issue #349)
- Remove all pm-utils scripts (Issue #363)
- tlp/tlp-stat: Temporarily overwrite configuration for one program
invocation only: -- PARAM=value ...
- Document intrinsic defaults in config file (Issue #353)
- Code verified with ShellCheck
Graphics:
- INTEL_GPU_MIN_FREQ_ON_AC/BAT, INTEL_GPU_MAX_FREQ_ON_AC/BAT,
INTEL_GPU_BOOST_FREQ_ON_AC/BAT: Intel GPU frequency limits
Radio Devices:
- tlp-rdw: new command to disable RDW actions temporarily (until reboot)
- Support ThinkPad Pro Dock CS18 (17ef:306f)
- USB_BLACKLIST_WWAN: disable by default
- Retire compatibility with Network Manager 0.9.8 (Ubuntu 14.04 EOL)
PCI(e) devices:
- RUNTIME_PM_BLACKLIST: add mei_me, pcieport
ThinkPad Battery:
- New native kernel API for battery features "natacpi" (Issue #321);
requires kernel 4.17; enabled by default
- NATACPI_ENABLE, TPACPI_ENABLE, TPSMAPI_ENABLE: make all battery feature
drivers switchable
- tlp discharge/recalibrate: exclude multiple simultaneous invocations
- Support ThinkPad 25, *80 (Coffee Lake) and all newer models
tlp-stat:
- Check systemd-rfkill.socket masked status
- Disks: show all configured devices (consider default)
- Intel GPU: show frequency limits and available frequencies
- Rename "Suggestions" section to "Recommendations"
- Remove invocation via 'tlp stat'
USB:
- Exclude scanners managed by libsane from autosuspend
- Remove long deprecated level/autosuspend attributes

* Bugfixes
- Issue #193: do not try to start NetworkManager (systemd)
- Issue #319: get_disk_dev logic is not compatible with NVMe devices
- Issue #320: AC mode not detected with USB charger
- Issue #331: Process '/usr/bin/tlp auto' failed with exit code 4
- Issue #332: zsh parse error in tlp diskid
- Issue #343, #362, #375: circumvent broken AC/charger detection
- Issue #344: keep ASPM default to enable deeper C-states on AC
- Issue #356: fix writing sequence for start/stop charge thresholds
- Issue #368: recognize Think*p*ad P50
- tlp-stat: filter HWP lines from x86_energy_perf_policy output