We now have the latest 1.4.0 release of the Foliate ebook reader in our test repository. OMGUbuntu has a pretty good writeup on it, which in fact brought it to my attention:
https://www.omgubuntu.co.uk/2019/07/ins ... -on-ubuntu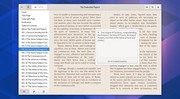 It's an alternative to Coolreader, which may not be around after Debian gets rid of Qt 4.
Please let us know how it installs and performs for any epub files you may have. Thanks!